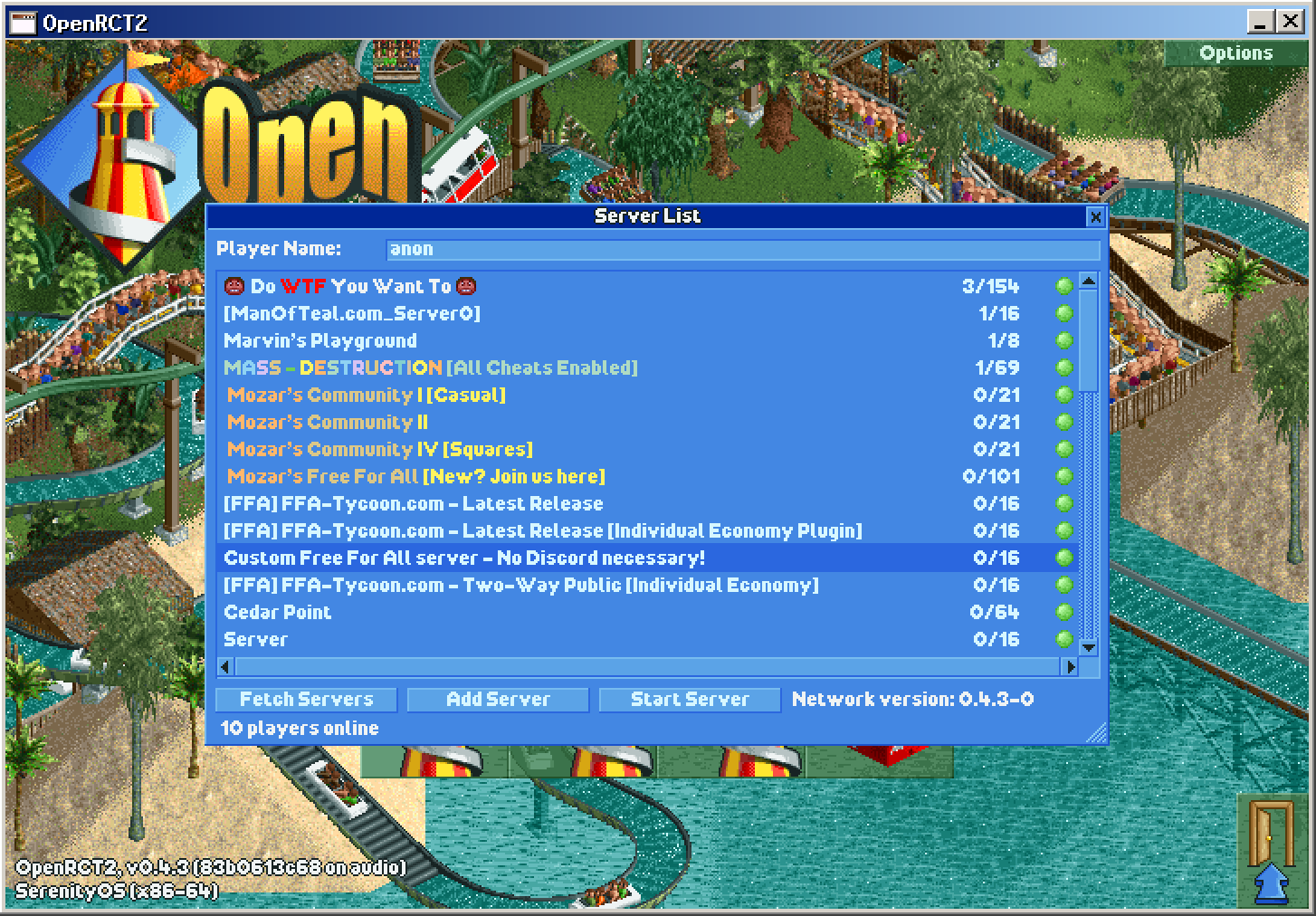 This description was automatically generated by ChatGPT. Feel free to add a accurate human-made description!
OpenRCT2 is a free and open-source simulation game developed by a group of volunteers that is based on the popular theme park management game, RollerCoaster Tycoon 2. It is essentially an open-source re-implementation of the original game, offering players an enhanced experience and new features that were not available in the original game.

In OpenRCT2, players can design and build their own theme park, complete with rides, attractions, and facilities such as food stands, restrooms, and souvenir shops. The game offers a wide variety of ride types, ranging from gentle and slow-moving rides to fast and intense roller coasters. Players can also customize their rides by adjusting factors such as speed, height, and track layout.

One of the major advantages of OpenRCT2 is that it provides a range of new features and improvements over the original game, including bug fixes, improved graphics, new ride types, new scenery items, and multiplayer support. Additionally, the game is highly moddable, which means that players can create their own custom content such as new ride types, scenarios, and scenery items.

Overall, OpenRCT2 offers a fun and engaging experience for players who enjoy simulation and management games. It is a great way to relive the nostalgia of the original RollerCoaster Tycoon 2 game while also enjoying new features and improvements.
Website: https://openrct2.org/
Port: https://github.com/SerenityOS/serenity/tree/master/Ports/openrct2
Dependencies: curl flac fontconfig freetype libicu libogg libpng libvorbis libzip nlohmann-json openssl SDL2 speexdsp zlib 🖧